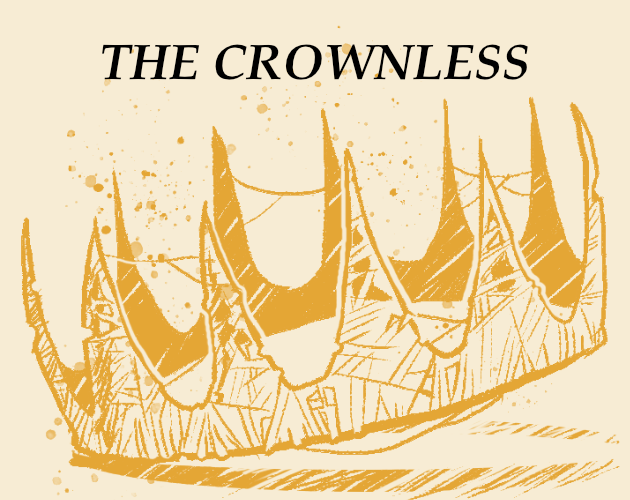 THE CROWNLESS
From the ashes a fire shall be woken,
A light from the shadows shall spring;
Renewed shall be blade that was broken,
The crownless again shall be king.
J. R. R. Tolkein
THE CROWNLESS is a TTTRPG for 2+ players, with one player taking on the role of the KEEPER while the rest of the players play as CROWNLESS. Inspired heavily by Elden Ring with a dash of Dark Souls, players will play as Crownless, banished individuals who once tried to overthrow the Pretender Gods, brought back from exile by the mysterious WYRD and its devout VOTARY.

Rise, you Crownless, brought together once more by shared purpose and convictions. Face a broken land ruled by twisted Pretender Gods and use their bones as kindling to set the world ablaze. The WYRD wills it, as the cycle of rebirth always begins in Flame. And you will make it so.
What's so cool about THE CROWNLESS?
There are so many cool TTRPGs out there. Here's some of what I think makes THE CROWNLESS kind of neat:
One page, printable, easy foldable Zine booklets. Adventure wherever you are surrounded by friends: Camping, at a café, on the train, at a convention, the brief respite before riding onto the battlefield to kill a god, a picnic, etc.
Lightning-fast character creation and GM adventure generating
Quick and simple combat that still lets you roll dice a lot
One of the first Elden Ring inspired TTRPGs that I know of, which is cool
What you will need
To play a game of THE CROWNLESS you will need:
A way to read the PDFs (and rotate them) or, preferably, the ability to print them out and make them into a One Page Booklet (check out here for a Video Tutorial and here for a Written Guide on how to do just that!)
A d4, d6, and d8, or a digital way to roll those dice
Character Sheets for the players or a sheet of paper to keep track of important information
Something to take notes on and write with
The Crownless: Only the Beginning
THE CROWNLESS is currently playable, with the Player and Keeper manual available. These act as the core rulebooks, like classic TTRPGs of old, with everything necessary to play a game contained within them.
However, I have a few extra ideas for THE CROWNLESS before it is complete. This is the first expansion (DLC? Content Drop? Patch?), dropping a Character Booklet, Magicks and Miracles, and Tattered Tactics.
Over the next few months I will hopefully finish with two final booklets:
Progression and Loot Guide: Gaining levels, even in a short one shot, is kind of cool. Ways to implement that and add Special Loot.
A Promise Kept: Ready to go, out of the printer hexcrawl adventure of tragic love and blessings that become our curses.
Done and Dusted in the Cool Stuff Patch (TM):
Character Sheet (coming Very Soon)
Magicks and Miracles: adding some Sick Spells and Marvelous Miracles
Tattered Tactics: More depth and optional combat tactics.
Attributions and Inspiration
This game owes much to the Soulslike games of FromSoft, particularly Elden Ring and Dark Souls 3. The idea of returning to my Zine-y roots with this single page, fold-yourself-a-booklet-TTRPG-Manual came from the absolutely delightful From the Mud game. Such a flavourful, evocative text mixed with playing way too much Elden Ring are to blame for this wild project!
A debt is also due to #BetterSoulslikeJam for motivating me to try to whip this game together in... about a week. Check out the other amazing submissions Here. THE CROWNLESS uses art from the fantastic The Wyrd and Wild by Feral Indie Studio. Artwork used with permission by Charles Ferguson-Avery of Feral Indie Studio.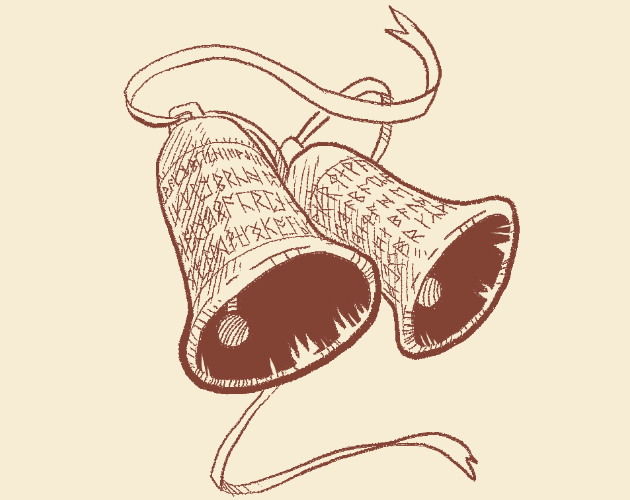 Purchase
In order to download this game you must purchase it at or above the minimum price of $5 USD. You will get access to the following files:
THE CROWNLESS A PROMISE KEPT.pdf
3 MB
THE CROWNLESS (complete).zip
6 MB
THE CROWNLESS LUCIOUS LOOT.pdf
526 kB
THE CROWNLESS CHARACTER BOOKLET.pdf
367 kB
THE CROWNLESS KEEPER MANUAL.pdf
441 kB
THE CROWNLESS PLAYER MANUAL.pdf
572 kB
THE CROWNLESS MAGICKS AND MIRACLES.pdf
563 kB
THE CROWNLESS TATTERED TACTICS.pdf
670 kB
Exclusive content
Support this game at or above a special price point to receive something exclusive.
CanZine Digital Access
Please do not take these copies unless you've purchased a copy of THE CROWNLESS from me at CanZine 2022! This will give you access to the digital files of THE CROWNLESS, including Character Sheets and copies of each of the booklets you have. Thank you for buying my game there and I hope you enjoy!
COMMUNITY COPIES
No Crownless left behind. If you're feeling financially strapped or can't pay for whatever reason, feel free to grab a Community Copy of THE CROWNLESS. Enjoy it, kill some Pretender Gods, and if you feel like it, rate the game. :)
Comments
Log in with itch.io to leave a comment.
Partner game worth 🌟🌟🌟🌟🌟!
This is fantastic and I have been using these rules in my own setting. I love the tactics and magicks additions and eagerly await rules for loot! good job with this :D
Thank you so much for the kind words, I'm so glad you're enjoying the system! Magicks and Tactics were really fun to make fit into such a tiny frame, glad they're seeing some play! :) Keep an eye out over the next day or two, might be a... fun content drop coming... :D
I've been in a dark souls ttrpg obsession for the past couple days (In leu of steamforged games dropping the ball) , and ultimately this one caught my attention the most. Looking forward to the future expansions. Keep it up!
Thank you so much for the kind words! I'm glad you found my little game and hope you enjoy it! If you end up playing it, I'd love to hear how it went for you and your table! :)
Of course! I've been super passionate and I ended up making a little setting for my game. I'd love to let you know how it goes when I get to run it :)
Also, I had bank troubles recently (nothing crazy, I just became an adult and forgot to submit legal documents so my account closed), but once I get my card figured out I'll be sure to throw some money your way! Keep up the good work!
Ohhhh that's exciting! I'd love to hear about the setting and your game when you get the chance to run it. :)
And no worries at all! No pressure to, but appreciated! Thank you! I'm hoping to get the next stage of the game content out Soon, so stay tuned. :)
I totally agree with the price upgrade! $2 was too low for such a great game to begin with!
This game is great! Looking forward to updates!
Ahh thank you!! Hoping to get some time to get the character booklet out, got quite a few fun mini-expansions for this on the way! :)
This is really neat! Totally worth $2, easily!